The NEA 'Windfang' wind turbine for visitors
The NEA (New Energy Agency...) promote environmentally-friendly technologies for energy saving, rational use of energy and the use of inexhaustible energy sources. One focus is the dissemination of information on renewable energy.
The NEA was created in 1995 as part of a project looking at future energy soources for Aachen & Heerlen. In this project, a carbon-neutral energy supply for the Avantis cross-border business park was designed. However, the time and place were not yet ripe for such a novel concept. Of the proposed combination of solar, wind and biomass plants were essentially the wind turbines, of which now twelve revolve in the area of the business park. This euro wind farm alone delivers year after year more energy than is needed in Avantis.
The wind turbine Visitor centre of the NEA was established in 1999 (

Location Map)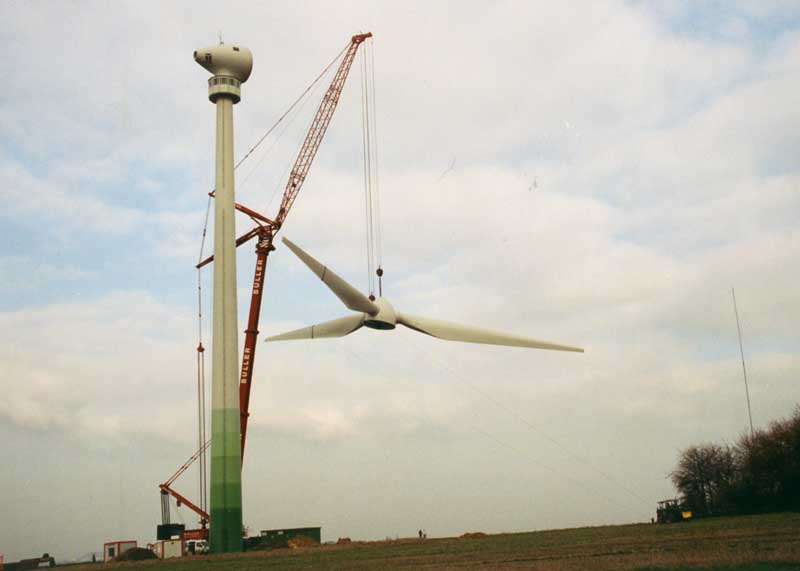 Assembling the rotor © Horst Kluttig, NEA
In a competition among Aachen students it got the nickname "Windfang" (wind catcher).
A spiral staircase in the tower leads to a viewing platform at 63m height, just below the nacelle. Worldwide, fewer than a dozen wind turbines are so equipped. From the observation deck, visitors can enjoy a magnificent view of the Aachen region.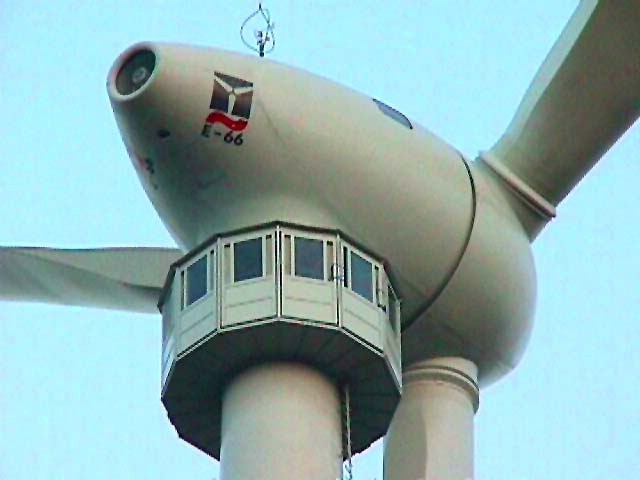 The Windfang observation deck © Horst Kluttig, NEA
Inside the tower posters and photos inform visitors about the plant equipment and the use of renewable energy. More than 10,000 visitors have already experienced the generation of electricity from wind from up close.

The plant is located in the EuroWindPark between the districts of Aachen Laurensberg Vetschau and Orsbach in Ochsenstock. ( Map) The dirt road is closed to vehicles. You can reach the turbine by bus 37 of the Aachen ASEAG. There is a new bus stop on the Orsbacher Straße at the entrance to Ochsenstock. Here you can optionally also park a vehicle. From there it's about a 1km walk up to the wind turbine.

Visits are usually held on Sundays from 10:45 clock. The tours are free. The number of participants is limited, registration is required. Children under 12 are unfortunately not allowed on the turbine.
A sneak peek is available via the video below:
A similar wind turbine in Westerholt / Niedersachsen is shown in this video:
© Horst Kluttig, NEA